On the 28th of October, StrathSDR and the Scotland 5G Centre (S5GC) hosted a day of presentations and live outdoor demonstrations featuring shared spectrum and SDR-based private network solutions as part of the project with S5GC developing testbed facilities at the University of Strathclyde Ross Priory estate on Loch Lomond.
These sessions covered a range of topics across the developing 5G landscape. The StrathSDR team, and various partners, provided details on the various research projects and private network demonstrator deployments.
The agenda included presentations on:
Scotland 5G Centre Rural Testbed – Creation of a rural 'field lab' to allow for demonstration, test, and evaluation of new 5G technologies.
5G New Thinking – An 18 partner project, and evolution of the 5G RuralFirst project, exploring the viability of community-led deployments of mobile networks.
5G Remote Production – An exploration of the role of private networks for live Sports broadcasting and event coverage.
5G RailNext – A demonstrator of interactive media delivery over private 5G networks in the Glasgow Underground.
Private Networks for Energy – Looking at the role of NB-IoT in developing the green economy by enabling energy management systems.
Private Networks for Manufacturing – Enabling "Industry 4.0" private networks in collaboration with the National Manufacturing Institute of Scotland.
International shared and private spectrum networks partnerships – Discussion from the Dynamic Spectrum Alliance, as well as an overview of shared spectrum activities in Kenya, Malawi, and Nigeria.
---
Although the event was hosted in the main testbed location for the Wave 1 Rural Testbed, the scope of presentations extends beyond enabling rural connectivity. John Reilly from the National Manufacturing Institute of Scotland (NMIS) was next to present on the role of 5G systems in the manufacturing and production sector. Indeed, the role of advanced wireless communications is expected to be paramount to delivering "Industry 4.0", or the fourth industrial revolution. Among other related projects, John and his team are engaging with StrathSDR to deliver a private 5G network, with an emphasis on NB-IoT capability, at the Advanced Forming Research Centre (AFRC).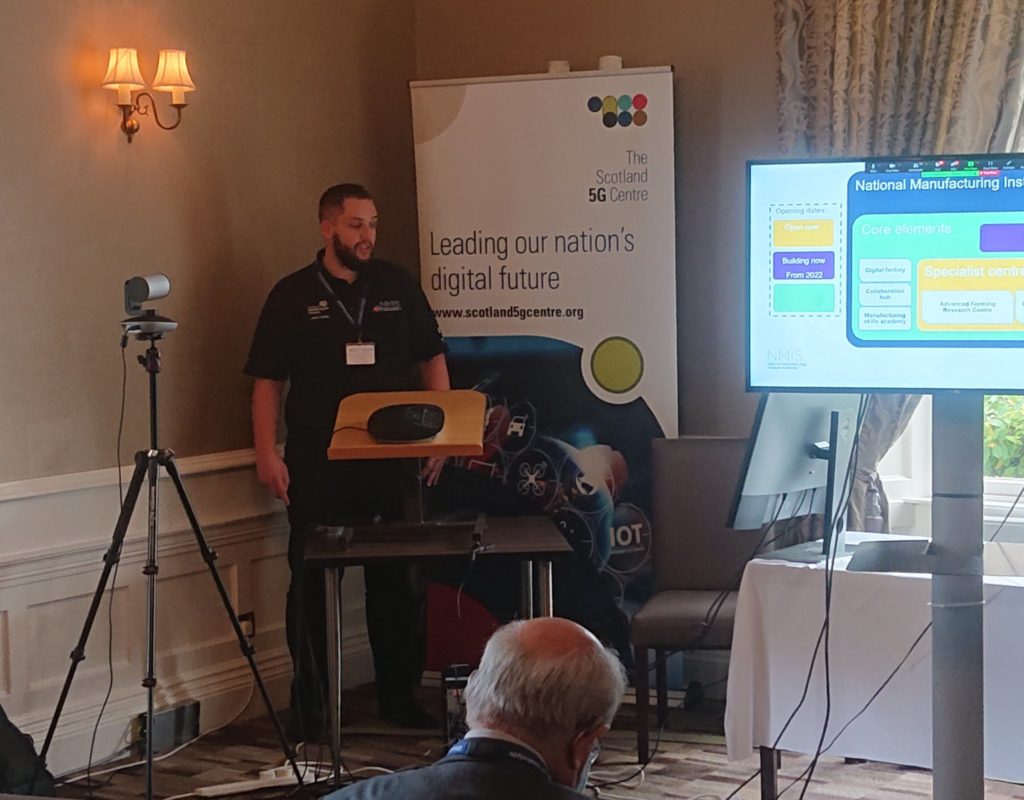 Presentation slides are available here
Dr Douglas Allan, from StrathSDR, was one of the lead engineers on the 5G RailNext project. This pioneering project that explored the potential of mixed and augmented reality portals to transform the passenger experience in the Seoul subway (one of the busiest in the world) and the historic Glasgow metro (the third oldest in the UK). As part of this work, the StrathSDR team delivered one of the first 5G standalone network deployments in the UK, enabling trackside to train connectivity for the onboard interactive media applications.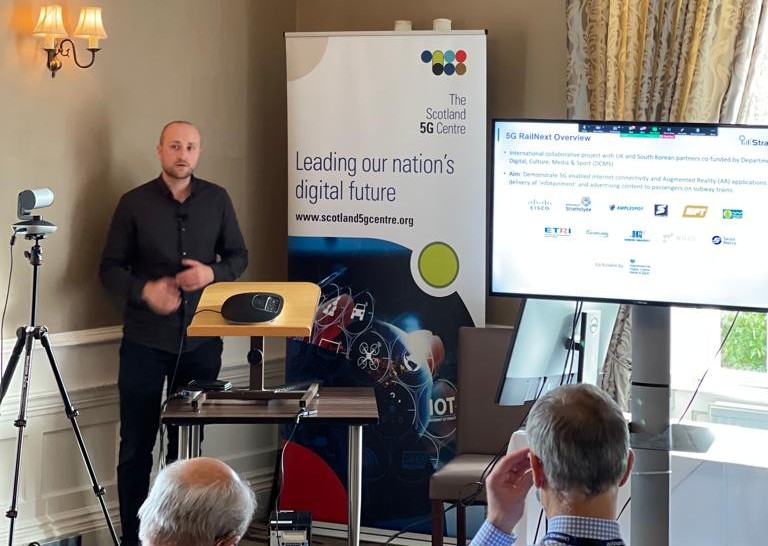 Presentation slides are available here
The StrathSDR group work with a range of hardware platforms to enable both deployment and research work. David Northcote presented development activities focusing on the Xilinx RFSoC platform. In this short demonstration, video below, David highlights the wide operating frequency capabilities of the device, showing operation as spectrum analyser and signal identifier.