On the 28th of October, StrathSDR and the Scotland 5G Centre (S5GC) hosted a day of presentations and live outdoor demonstrations featuring shared spectrum and SDR-based private network solutions as part of the project with S5GC developing testbed facilities at the University of Strathclyde Ross Priory estate on Loch Lomond.
These sessions covered a range of topics across the developing 5G landscape. The StrathSDR team, and various partners, provided details on the various research projects and private network demonstrator deployments.
The agenda included presentations on:
Scotland 5G Centre Rural Testbed – Creation of a rural 'field lab' to allow for demonstration, test, and evaluation of new 5G technologies.
5G New Thinking – An 18 partner project, and evolution of the 5G RuralFirst project, exploring the viability of community-led deployments of mobile networks.
5G Remote Production – An exploration of the role of private networks for live Sports broadcasting and event coverage.
5G RailNext – A demonstrator of interactive media delivery over private 5G networks in the Glasgow Underground.
Private Networks for Energy – Looking at the role of NB-IoT in developing the green economy by enabling energy management systems.
Private Networks for Manufacturing – Enabling "Industry 4.0" private networks in collaboration with the National Manufacturing Institute of Scotland.
International shared and private spectrum networks partnerships – Discussion from the Dynamic Spectrum Alliance, as well as an overview of shared spectrum activities in Kenya, Malawi, and Nigeria.
---
Mark Smith, representing the International Broadcasting Convention (IBC), then joined us remotely from Stamford Bridge to provide an overview of their Accelerator Project initiative. StrathSDR have been engaging through the 5G Remote Production project.
Presentation slides are available here
StrathSDR have engaged in research activities with BBC R&D for over a decade. Ian Wagdin, Senior Technology Transfer Manager, presented on this ongoing collaborative work, as well as the role of private networks in enabling remote broadcasting and program production.
Presentation slides are available here
Matt Stagg, Director of Mobile Strategy at BT Sport, joined us remotely to talk about the ongoing, and already successful, collaborations in the area of 5G for broadcasting. Working with partners BT Sport, Vislink, and DORNA, the StrathSDR helped to deploy the world's first private standalone network for live sports broadcasting. Using Ofcom shared spectrum, in the 3.8-4.2 GHz frequency range, live camera feed from MotoGP at Silverstone was broadcast over an SDR-enabled private network.
Presentation slides are available here
After a quick refreshment break, we resumed with a live demonstration from Malcolm Brew and Sam Yoffe of StrathSDR, with Professor Stewart giving a short presentation live via private 5G standalone network from outside the Ross Priory building. This was made possible by the equipment deployment through the Wave 1 Rural Testbed project.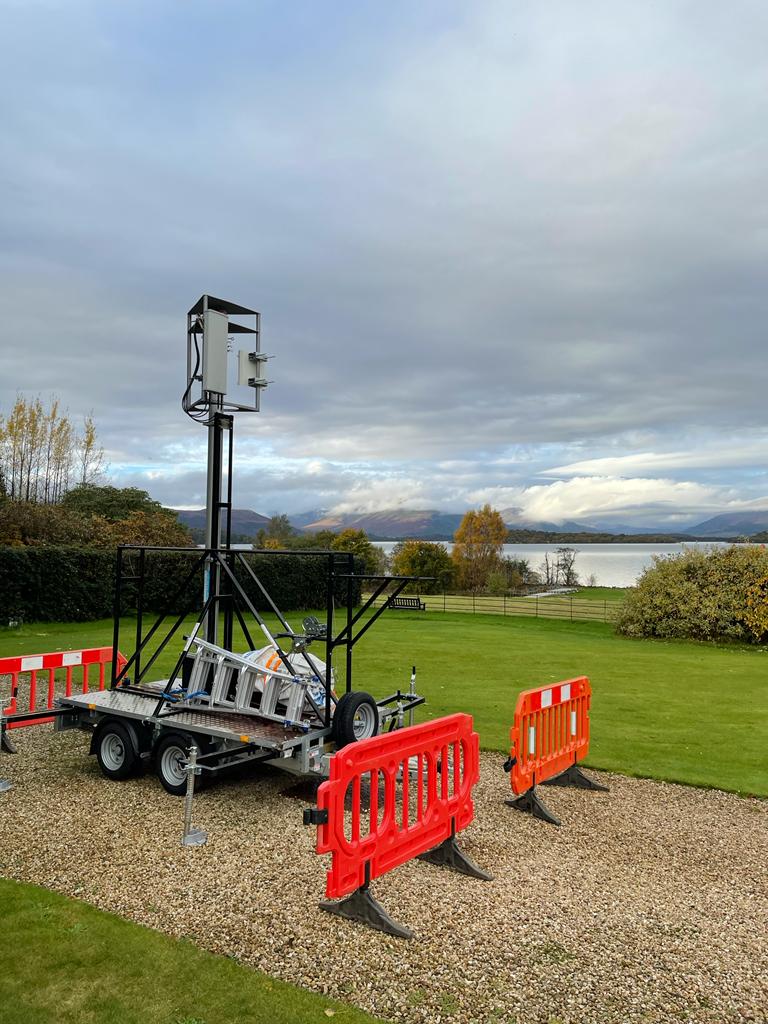 We then had a series of presentations outlining the impact of shared and dynamic spectrum in the wider international community. We were fortunate to be joined by Martha Suarez, President of the Dynamic Spectrum Alliance, to highlight the importance of increasing global digital inclusion and the role of private networks in enabling that.
StrathSDR PhD candidates and researchers Tawachi Nyasulu, Dennis Sonoiya, and Ehinomen Atimati, followed with presentations discussing aspects of connectivity in Malawi, Kenya, and Nigeria respectively. Dennis is perhaps uniquely qualified to present on such topics, through his continuing work as part of the Kenyan regulatory body – Communication Authority of Kenya (CAK).
Tawachi's slides are available here
Dennis' slides are available here
Ehinomen's slides are available here
Concluding remarks for the day of presentations were delivered by Professor Tariq Durrani, who has significant experience in the field of wireless communications and signal processing through a long career at the University.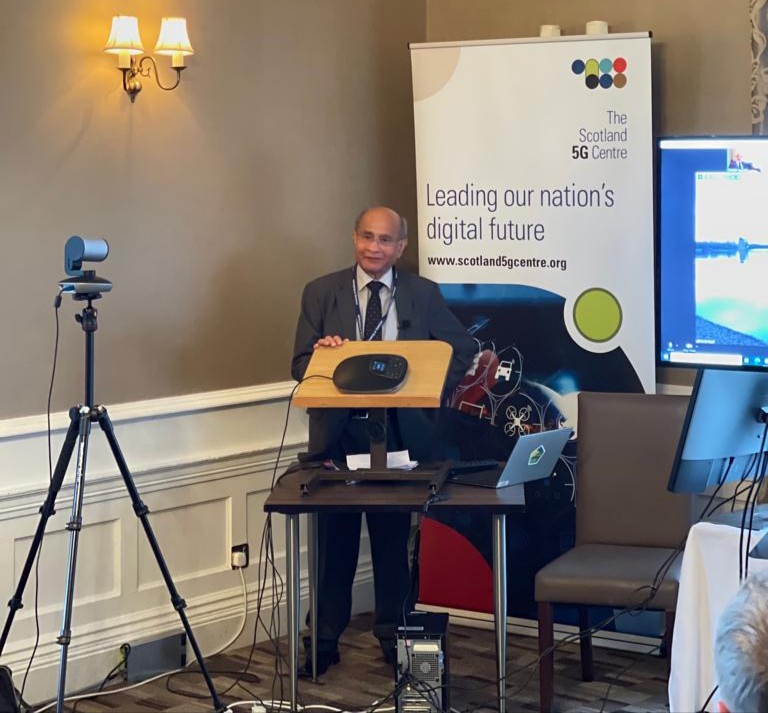 As well as a full day of presentations and speakers, the StrathSDR team also arranged an exhibition hall to allow the in-person visitors an opportunity to learn more about the various projects and get their hands on real equipment used to enable such deployments.

The variety in presentations and demonstrations at this event is a testament to the wide potential of 5G technologies across multiple market sectors. The StrathSDR team are helping to realise that capability through implementation of shared spectrum private networks in a number of completed and ongoing research projects.
More information on the work of StrathSDR and the Scotland 5G Centre can be found below.
Follow the Scotland 5G Centre Website and Twitter and LinkedIn